Spring Cleaning for Your Pool
It's spring! That means it's the time of year for throwing open the windows, rolling up your sleeves, and tackling the deep home cleaning you have been putting off since New Year's. Spring cleaning is a seasonal tradition in most homes. So shouldn't it also extend to your backyard swimming pool as well? This spring, consider adding spring cleaning for your pool while getting your house ready for summer. Long Winter Slumber In most places, outdoor pools have been pretty idle most of the ...
Read More
When Did You Last Change Your Pool Filter?
When speaking to new or potential clients, one of the first questions our pool technicians usually ask is, "When did you last change your pool filter?" You would be surprised by how frequently the response is "What pool filter?" It's not actually that surprising. When people purchase pools or have them installed by professional contractors, they rarely read through the instruction manual. Instead, they are anxious to jump in and have fun in their new pool. Pool Pumps 101 Most modern poo...
Read More
Owning a Pool Can Be Hard Work
When you are in the market for a swimming pool, you dream about splashing in the fun and sun with your family and friends. What you probably don't fantasize about is balancing chemicals, testing pH levels, changing filters, and removing debris from both the pool's bottom and the water's surface. What the pool company brochures don't tell you is that owning a pool is actually a lot of hard work. If you work in an area that gets hard winters, that means emptying out your pool every fall and ref...
Read More
Don't Wait Until It's Cold to Check Your Heater Repair
One of the most common pool repair and maintenance calls pool services receive this time of year relates to pool heaters. Pool owners wait until the weather turns cooler to find out that their heater isn't working properly or isn't operating at all. On the practical side, this makes sense. Pool owners usually wouldn't turn on their heaters until they need them. And they don't find out they aren't working right until they turn them on. But here's the problem: When the weather turns cold and...
Read More
Demand More from Your Pool Water
The water in your pool is dynamic, versatile, and (literally) fluid. It can stand up to a lot of use -- but only if it is properly maintained. When it comes down to it, your pool is simply a chemical equation: The more use your pool, the faster the chemicals that keep your pool water safe break down. Fortunately, there's a simple solution. Keep your pool water safe, clean, clear by having it treated and maintained by the experts at Eagle Pool Service. We have the knowledge, experience, equipm...
Read More
Are You Overusing Your Pool?
Is your backyard swimming pool constantly in use? Does it seem like there's always somebody swimming, playing, or splashing in your pool to the point that the water is discolored or the water levels are low? If so, it could mean that your pool is being overused. Pool use tends to be cyclical. In the summer months when temperatures are higher and the kids are out of school, pool time is maximized. But in cooler winter months, pools often sit idle. Yet in warm weather climates like South Florid...
Read More
Make Your Backyard Pool Football Headquarters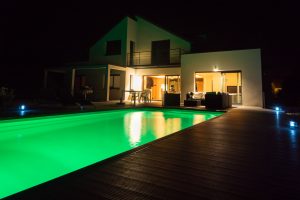 It's finally autumn and that means the football season is in full swing. This year, why not make your backyard swimming pool the place where family and friends gather to watch your favorite teams? Florida is blessed with three NFL teams -- the Miami Dolphins, Tampa Bay Buccaneers, and the Jacksonville Jaguars. Plus Florida State, the University of Florida, and even the University of Central Florida are perennially among the nation's best teams. So there's plenty of weekend football action to ...
Read More
Make the Most of Your Backyard Swimming Pool
Having a backyard swimming pool is a luxury only a few lucky homeowners get to experience. But pools are something many homeowners often take for granted, especially if they have owned their pool for a while. That's too bad because pools are amazing additions to practically any home. Here's how you can take full advantage of your backyard swimming pool and enjoy it to the fullest so you can get full value. Make Your Pool Your Home's Centerpiece Your backyard swimming pool is the perfect...
Read More
Before Buying a Pool, Factor in Hidden Costs
Installing a pool in your home's backyard is not a casual undertaking. The upfront construction costs of an in-ground pool can be substantial. Even an above ground pool can be costly to build. But the initial costs of having a pool built isn't the end of the expenses for homeowners. There are hidden costs that might not be immediately evident to anyone considering adding a pool to their home. Taxes and Insurance The first hidden expense is taxes. A pool can increase the value of your ho...
Read More