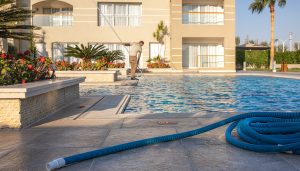 In South Florida, this summer has been a particularly hot and humid one. While those terms describe most summers here, so far this year has been even worse than usual.
Fortunately, the perfect antidote to South Florida late summer weather is right in your backyard: The cool and refreshing waters of your backyard swimming pool. But your pool is only usable when the water is not only cool but also clean and safe. And that's where Eagle Pools can help.
Pool Cleaning and Maintenance
There are two basic elements of pool cleaning: 1.) Removing physical debris such as leaves, palm fronds, and trash from both the water surface and the pool water and, 2.) maintaining the proper balance of pool chemicals that prevent harmful bacteria, algae, and other organisms from growing out of control.
Yet there's also a third element that the other two depend upon: Maintaining and, if necessary, repairing the equipment that keeps your pool operationally efficient and safe, including pumps, heaters, and filters. All of that can be a lot of work. In fact, it's often too much for the average homeowner who simply wants to escape the South Florida heat and humidity at the end of a long summer's day with a refreshing dip in the pool.
Eagle Pools
Eagle Pools is South Florida's "Don't Worry About It" pool care and cleaning company. We take care of maintaining your pool so that it is always safe, clean, and ready to be used so you never have to be concerned about pool cleaning and maintenance yourself. Instead, you can focus on what's really important: Enjoying the cool, refreshing waters of your backyard swimming pool with your family, friends, and neighbors.
You've got enough to worry about this summer without adding pool care to your "to do" list. This year, take it easy by letting Eagle Pools clean and maintain your pool and "Don't Worry About It"!