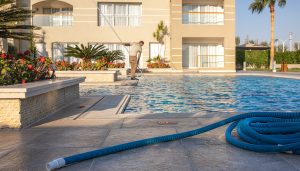 Maintaining even a modest backyard swimming pool can be challenging. Because it is exposed to the elements, is used frequently by many different people, and relies on both mechanical and chemical systems in order to work efficiently, there are lots of things that can go wrong.
Some of the most common include unexpected and sudden water discoloration, cloudiness, buildup of dirt and debris, and changes in things like clarity, temperature, and even water odor.
Pool Breakdowns
When things go wrong with your backyard swimming pool, it's not just inconvenient. It's also potentially dangerous.
Water that is too acidic or not acidic enough, buildup of algae or bacteria, and untreated dirt and debris can create potential health hazards for the people who use your pool. The last thing you want is to put your family and friends in danger because you didn't properly maintain your swimming pool.
Self-maintenance often leads to serious problems for pool owners. Taking care of a pool requires a lot of experience, equipment, and attention. So if you are planning on caring for your pool when it's convenient for you, it may not be enough to keep it safe.
The Fast, Easy Solution
There are lots of things that can go wrong with your pool. But they all have the same solution: Eagle Pool Service.
Our experienced professionals offer fast, efficient, and affordable pool care for indoor and outdoor pools of every size. We serve residential and commercial pool customers throughout South Florida, providing top-quality pool care that our clients can rely on to keep their pool clean and safe.
The best way to deal with pool problems is to prevent them from happening in the first place. Let Eagle Pool Serve care for your pool and never worry about pool problems again.